Cradle of Filth new album OUT October 28th!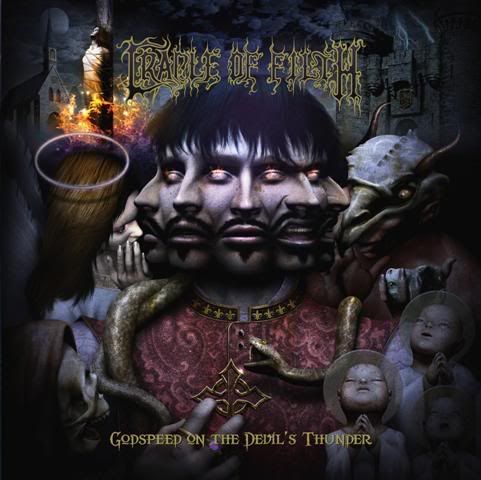 Cradle of Filth new album out October 28th 2008
"Godspeed on the Devil's Thunder"
is conceptual and is based on the well-documented, true-life fall from grace of a shadowy historical figure named Gilles de Rais, a wealthy French nobleman who was one of Joan of Arc's brothers-in-arms. He was best known, however, as a prolific serial killer who mixed prayers with his nightly murders as well as an aspiring alchemist. He was accused of a panoply of crimes, among them heresy, demonology and kidnapping. There's even an extreme fringe sect of historians who question de Rais' true status, with some convinced he was framed.
Godspeed On The Devil's Thunder - Special Edition:
2 Disc set featuring 10 unreleased/rare bonus tracks and expanded artwork.
Disc 1:
01. In Grandeur And Frankincense Devilment Stirs 02. Shat Out Of Hell 03. The Death Of Love 04. The 13th Caesar 05. Tiffauges 06. Tragic Kingdom 07. Sweetest Maleficia 08. Honey And Sulphur 09. Midnight Shadows Crawl To Darken Counsel With Life 10. Darkness Incarnate 11. Ten Leagues Beneath Contempt 12. Godspeed On The Devil's Thunder 13. Corpseflower
Disc 2:
01. Balsamic and Anathema 02. A Thousand Hands On The Maid Of Ruin 03. Into The Crypt Of Rays 04. Devil To The Metal 05. Courting Baphomet 06. The Love Of Death (Remix) 07. The Death Of Love (Demo) 08. The 13th Caesar (Demo) 09. Dirge Inferno (Live) 10. Dusk And Her Embrace (Live)
*And for the cd version consider the "Disk 1" info only.
For more info on Cradle of Fitlh go at:
CrazyTan \m/**\m/