All Out War (NY) - 2003 Interview With Mike Score
-The first thing that needs to be said off the bat is how unbelievable and amazing Condemned To Suffer is. There is without the shadow of a doubt the assertion that this will be the album that truly springboards All Out War to the upper echelons of the metal world. Since it is the occasion of Condemned To Suffer that has prompted this interview to take place, let me know the complete account of the making of Condemned To Suffer. Apparently three songs had been recorded in upstate NY before All Out War's semi-official breakup two years ago, is this true? What songs were they? Condemned To Suffer has been anticipated since you coined that album title years ago. Why has it taken so unbearably long for the album's completion to occur? Why was All Out War's show at the New Jersey Metalfest in 2001 the apparent last show?
Mike Score: We started playing again in December of 2002. The original idea was just to play a memorial show at CBGB's in NYC for our friend Frank Collins who passed away. He was in Brooklyn's Confusion back in the early 90's. We decided we were having fun playing again so we wrote a new record. There were three songs recorded but those songs sucked and we decided we didn't want to use them. We recorded this record at Big Blue Meanie in NJ and it was a great time. They were all awesome people. Why did the record take so long? Basically, we were done. Finished dealing with phony people, finished dealing with new jack hardcore herbs too concerned with the latest fashion trend than with good sincere heavy music, we were finished with the whole bullshit deal. We still are actually. We have no desire to be involved with the cliques or the bullshit. The herbs can have it all. They can talk tough on the internet and talk as much shit as they want. They can have the terrible bands they think are cutting edge and we will keep doing our thing in the background. Like it or not we are still around. 13 years and we are still here. The only catch is... we are not playing the game. Don't like us fine... don't expect us to look for your acceptance... we really do not care at all.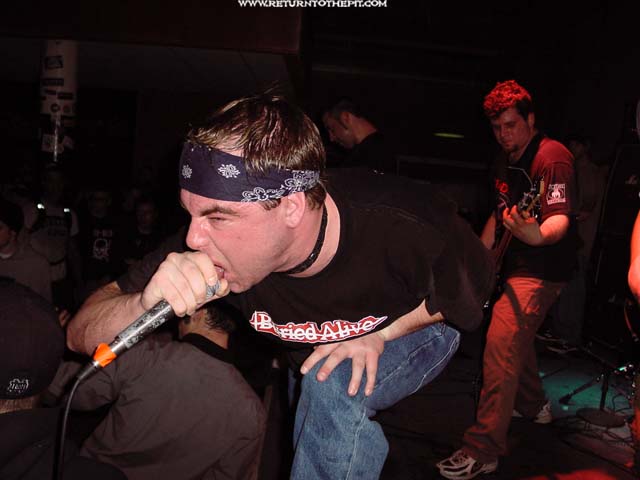 -In certain cases, real life and planning for the future takes rational precedence over one's responsibility to a band. I heard you were teaching school in recent years and it would be great if you could elaborate on that. To what degree did All Out War and you furthering your education come into conflict with one another? Mike Score: I am a high school history teacher. I teach 9th and 12 th grade. My kids in my classes are my first priority. Music takes a back seat. -How did lineup changes affect the band's latest breakup and subsequent delay? Although All Out War is primarily a metal band, the origins of the band can best be traced back to the hardcore scene. A curse that seems to afflict bands coming from the hardcore scene is a frequent loss of original members. With Jesse's return to the fold on drums, Taras still on guitar, and you fronting the band as always, All Out War's current lineup is 3/5 of the exact lineup who recorded what has been until now All Out War's calling card, 1998's For Those Who Were Crucified. This is quite impressive considering the five long years that have passed since that album dropped.
Mike Score: We have always had lineup changes. Ever since we started there have been different people in the band. The break up in 2001 had nothing to do with the lineup. The majority of the band members from that lineup all agreed that we were never going to play by the rules. We all watched the scene change for the worse and we watched friends of ours be sucked into some popularity game looking to appease these elitist pampered kids. We were not going to do that and we still aren't. Bottom line is....we don't fit in. We didn't before and we really dont now. -You now have Jose Segarra on second guitar - the position that has seemed like a revolving door since the beginning. Tell me about Jose, where did you find him, is he a good guy, good player, etc? I also notice Andy Pietrolungo on bass. His name sounds familiar, has he played with you guys before possibly on guitar or am I just imagining things? What happened to EriK? He seemed like the rock of Gibraltar of All Out War correct me if I'm wrong, there from the beginning and apparently committed to the band. Mike Score: Erik is still around and will always be in some capacity. Andy has played with us for years, only never on a recording. Jose is awesome and brought a lot to the new record. The line up is solid and we all have one common goal... to play music that we like for ourselves... no one else.
-Also I think that many All Out War fans will be happy to see Jesse back on drums. Matt Byrne was in All Out War for some time, he recorded the New York City Takeover live album and really flexed his percussive muscles with a style much flashier than that of Jesse. How come he left, was it to join Hatebreed permanently? I'm assuming that he was writing some material with you before he left, how did that process go? Are you happy to have Jesse back? Mike Score: Very happy to have Jesse back. Matt is my good friend and he rejoined Hatebreed after All Out War broke up. Jesse's style fits in great with us. We don't need flash. We need someone solid. -Let's delve into the past of All Out War for the hell of it. Why did some of the original members leave, specifically Joe Branciforte, Jim Antonelli, Chris Bozeth, and Chris Chisholm? Speaking of Bozeth, Jorge from Merauder told me that there is a good chance of Bozeth re-joining the band with the intention of the band starting to take things seriously for the first time in years. Are you still in touch with any ex-All Out War members, and have you heard anything about Bozeth joining Merauder? Mike Score: I am in touch with almost all past All Out War members. Why did they leave? You have to understand these guys have been around the hardcore/metal scene since the eighties. They moved on... got married... had kids... got jobs. I haven't heard from Chris in years, but I really hope that he is getting back with Merauder. -When Rag Men swung into town this past June, I conducted a fun and extensive two hour long interview with Jorge. At that point, there was still no concrete news about the happenings in the All Out War camp but I went out on a whim mentioning to him that All Out War was back in action and set to release a new album in the fall. He was really excited to hear this and gave you some big shout outs on record. That interview should be finally posted by next month, we mainly talk about the old days, street life, and Merauder. I'll send you a link. What are some of your fond memories of Jorge and the guys in Merauder? Favorite shows, tours, stories? Have you been in touch with any of those guys recently? Along with Madball and Stigmata, All Out War and Merauder were and to a degree still are the torch-bearers of tough NY metal/hardcore.
Mike Score: Without Merauder there would not have been an All Out War. They were a huge influence on us in 1990. The first time I saw Merauder I was hooked. That was long before Jorge was in the band, Minus was still on vocals. This was at CBGB's in 91. I have fond memories of all the Brooklyn guys. Jorge actually sang After Autumn with us at one show and I have a video of Sob singing Fight for God and absolutely destroying people on the dance floor. I met all those guys years ago, but some of the most vivid memories I have of that crew of guys was from before I actually knew them. I remember seeing them going crazy on the dance floor at CBGB's and L'amours in the eighties. People have no idea what real hardcore and real crazyiness was in hardcore unless they lived through those days. Kids today talk a good game... those guys lived it. -In all honesty, what is your take on the hardcore scene in 2003? Shit on the people, the attitudes, don't censor yourself whatsoever. The state of the scene has fallen out of favor with most people who can remember when it served a social and political purpose other than to show off a new haircut and tight jeans. Offer your musings on the subject of hardcore scene degradation, if you see it as such. Does All Out War prefer to associate itself with the metal world? Explain. Mike Score: We prefer to associate with no one. We have our friends in the scene and we love those people. The majority of the people we truly dislike. These kids have taken something great and destroyed it. They sit behind their computers and criticize. They criticize people who they would never confront in real life. They jock bands that everyone else does or they jock bands that are extremely underground just so they can pretend to be in the know. Music is no longer judged on the merit of music, it's judged on the band's clothes, haircuts, or who they know. It's a joke. Elitists, social climbers have taken over. The scene is controlled by would be kings and queens. The preppy U2 and INXS fan of yesterday is today's hardcore kid. It sickens me. Well, they can have it all. They can bask in the filth they created and they can be the kings and queens of nothing.
-How has All Out War's lyrical and musical inspiration changed in the years since For Those Who Were Crucified? I notice much more quick death metal riffage now compared with before. Who wrote most of guitar riffs on Condemned To Suffer? Who was responsible for the slicker than ever song structure? Are you happy with the way that the new album sounds musically? Some people are saying that the new album is a complete departure from older All Out War which I consider to be bullshit, just a slight and very effective tweaking of the metal...any response to the haters? To make an album this great and true to form after five years since the last one is nothing short of incredible. Mike Score: Thanks for the compliment. First of all the record is really no different than past All Out War material. It may be slightly faster and be a little more involved, but that's it. The only song that is really that much different is Bleeding the Weak and for some reason that is the song Victory chose for the MP3. I love the way the record came out. Our intention with the record was to be heavier... we achieved that. My response to the people who hate it: Start your own band and write want you want... don't buy the record, don't listen to it... but remember this: we don't care what you think! We didn't record this record to fit in with anything. We wrote it because we like it.
-Did the tragedy of September 11th incite even more rage in you, not only as a New Yorker but as an American and citizen of the world, and inspire you in certain lyrical feats on the new album? Do you find it ironic that the band name All Out War is more relevant than ever, or is this something you envisioned based upon the centuries of war that preceded this most recent war on the West/terrorism? Mike Score: It was a tragic day, one that I will remember exactly where I was when it happened forever. My concept of the world was forged way before the tragic events of that day. -What is it like working with Victory Records? Have they been supportive of your extensive time off? What would you consider the label's strong points and contrasting weak points if any? I'm sure that Victory would like for All Out War to tour extensively in support of this beast of an album, Condemned To Suffer. On that note, what are All Out War's touring plans in the near and distant future? While I got wind of your supposed participation in the upcoming Six Feet Under and Dying Fetus tour, it was soom rebuffed by information that you had pulled off the tour. So is there anything else planned or will you guys take it as it comes? Lastly how was the recent European tour, did you receive positive reactions in general? Mike Score: Europe was great as always. As far as current tours......who knows. We would like to tour, but unfortunately we are not in the financial position to leave our jobs and apartments. We need to survive in the real world. No one cares if we lose our apartments and are in financial ruin. It makes no difference to most people. Why do people think bands break up? They break up because the fimnancial strain becomes too much. We have had equipment stolen, van problems, and other tragedies that we are STILL paying for. Do we want to tour? YES. Will we tour again? YES!!.......but we need to do it when we can. It seems no one is willing to help us out unless we act like lap dogs, kiss ass, and do what were told, when we're told. Well fuck that. We are not doing it. We are no one's sucker. We make the rules with our lives. Don't like, don't help us out. It makes NO difference to us. We are the ultimate blacklisted band because we jock no one. No one wants to helps out because we are not in awe of anyone. We don't play the game and people can't handle that because it puts cracks in the armor.
-The new album sounds great thanks to a self-production job which is top-notch. Jesse's drums are now super-loud, something that slightly lacked on the last album's production. Production can make or break an album and in the case of Condemned To Suffer, it makes it and then some. Are you satisfied with the production job? What was it like working at Big Blue Meanie Studios? How long did it take to record? I noticed that you continued the tradition of re-recording songs from All Out War's debut album, Truth In The Age Of Lies, as you re-did its title track for your Victory debut and now you have brought back Destined To Burn, one of the early All Out War cult favorites. What motivated this decision other than the lyrics looking more true than ever? Mike Score: Destined to Burn is only on there because Jesse is the only All Out War drummer not to record it and he really wanted to do it. Big Blue Meanie was awesome...everyone there was great. We worked with Erin, Aron, and Tim. We are extremely satisfied with the production. It took three weeks to record and we had a great time. -Did you catch the Cro-Mags on their supposed farewell tour with John Joseph last year? What were your impressions, I thought they were great although I hate to see all this self-perpetuating controversy that continues to beat them to a pulp. What's your take on the Cro-Mags, especially since John Joseph has scheduled some more upcoming shows with AJ and Rocky George on guitar? Mike Score: I love the Cro-Mags. One of my all time favorite bands. Any controversy is none of my business.